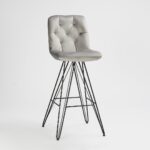 Chloe bar chair is made in a classic style, with a modern industrial twist. Chester elements, combined with modern metal legs make this bar chair unique in its appearance.
The saddle lined with sponge and velvet furniture fabric, provides comfort that you will enjoy while having breakfast in your kitchen or drinking your favorite cocktail at the bar.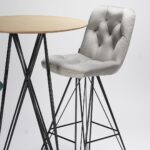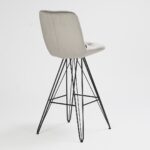 The model is available in two heights, depending on the height of the bar. For a bar height of 90 cm, a Chloe A bar chair with a saddle height of 60 cm is suitable. While for a bar height of 105 cm fits the taller model Chloe B with a saddle height of 75 cm.
Dimensions:
width: 42 см
height: 111 см
length: 54 см
saddle length: 40 см
saddle height: 75 см